Click here to add your text.

About the artist. . .  The works of Catherine Mahoney have gained consistent acceptance in juried exhibitions throughout the country having been named to the Watercolor Honor Society, awards and showings totaling nearly 100 including those from the 75th Naitonal Watercolor Society Exhibition, the l995 Watercolor USA, National Competitive Exhibiton, Semifinalist Cash Award and Patron Purchase Prize Award; the 56th National Texas Watercolor Society Exhibition, Award of Merit and traveling show, 17th National Watercolor Oklahoma Exhibition; the 45th National Juried Art Show, Colorado Springs Art Guild; the Garret Gallery International Fine Arts Competition, Three Honorable Mentions; the Oil Painter of America Midwest Regional Show; the St. Louis Artist's Guild Art Section Shows, Five Honorable Mentions, the Missouri Top 50 Art Exhibition, Five years, Missouri Public Service Award, First Prize and Purchase Prize Award; the Arts, Rolla! Exhibitions, eight  years, two Awards of Excellence, Third Place and First Place of Show Awards, and the Alumni Art Exhibiton, Truman University, five years.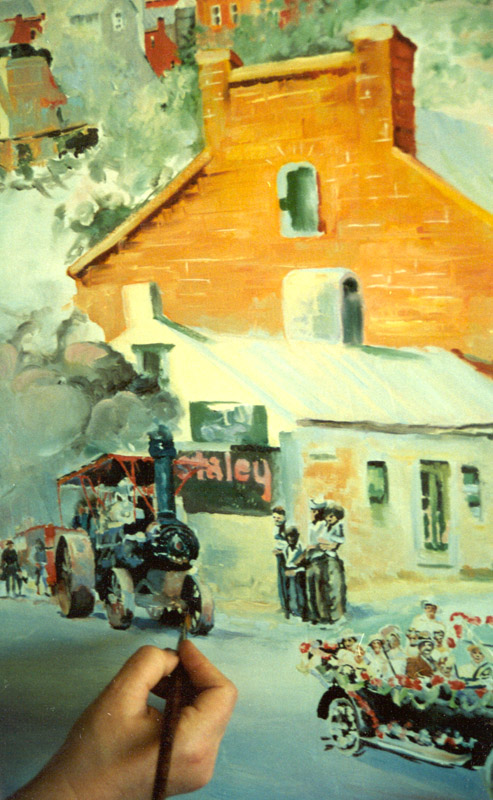 . . .Detail from Mural. . . .

Mahoney original work has been published regionally, nationally, and internationally.  Works have been published in "Best of Watercolor:  Painting Texture", 1997, the Missouri Department of Agriculture, Cover Design, for the "Our Missouri Heritage", l998, the Waldechesche Landeazeith                    May l988, and the Missouri Symphony Society, Cover Design, l986.

Catherine has maintained membership in Oil Painters of America; St. Louis Artist' Guild, Artist Section, the Missouri Watercolor Society, Member of the Board, Texas Watercolo Society, an associate of National Watercolor Society and is a Signature Member of the National Watercolor Honor Society, Watercolor USA.

After graduating high school as Valedictorian from La Plata, Missouri, Catherine studied art and holds the B.S. in Art Education from Truman University, earning a Life-long Missouri State Teachers Certificate.  During that time, Catherine was a member of The Honorary Art Club, Alpha Phi Sigma, and Phi Beta Kappa,

Having lived in Hermann for 30 years, Catherine has maintained an active interest in the Herman community and area involved as the Hermann Arts Council Past-President; in schools as Art Instructor, substitute teacher and PTO Past-President; and area churches as Sunday School teacher, VBS teacher and pianist/organist; with youth, Scouts, and 4-H Programs; also serving as the Gasconade County Fair Art Department Chairman.  She enjoys membership locally, in the Hermann Chamber of Commerce, the Artists of Wine Country, and is well-known for her interests in furthering the arts of Hermann's area youth by conducting Colorful Brushes Student Summertime Art Workshops, and "Young At Art" Student Art Shows since l988.





IIndexlick                 Cardsxt.                  Photos                  Prints                  Artwork





Indexlick                 Cardsxt.                    Photos                       Prints                    Artwork

Click here to add your text.







   573-486-2444